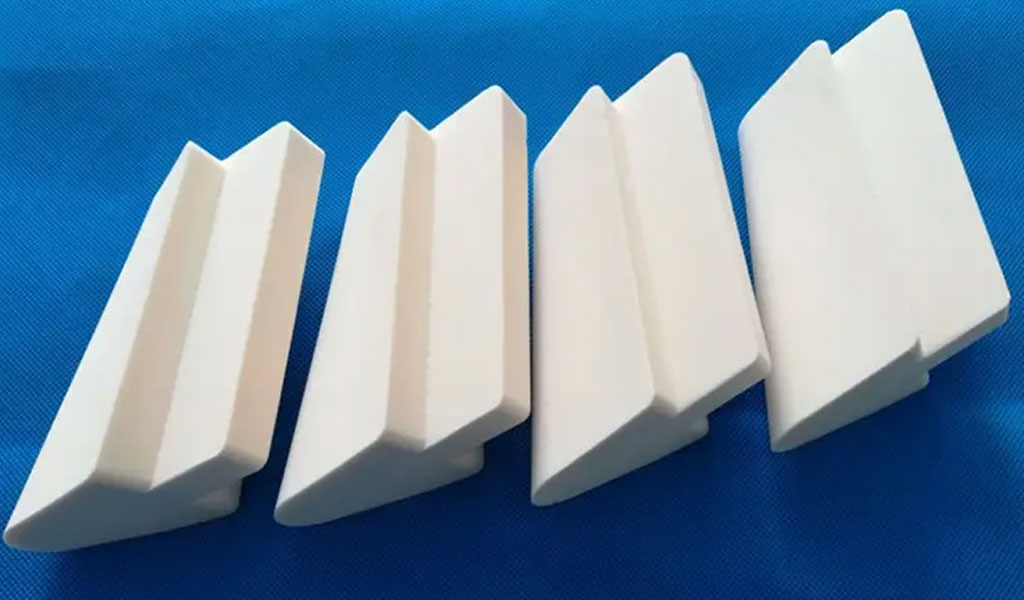 Pintejin provides ceramic cutting services to a wide network of industries and markets. Pintejin is uniquely positioned to Laser Cut, Laser Engrave, Precision CNC Machine and Precision Finish Grind ceramic parts and components.
Precision ceramic cutting refers to the machining ceramic of objects with turning tools on a lathe to obtain a certain shape accuracy. In the industry, there is still no ceramics with hard and brittle characteristics that are cut by turning tools.
The laboratory used a sintered diamond tool to test Al2O3 ceramics, and a high-precision lathe has been used to obtain a shape accuracy of about 0.1μm with a single crystal diamond turning tool, micron-level micro-feed, and micro-feed.
At Pintejin, we can cut almost any industrial ceramic material and in whatever design, shape or size that you require. Our sophisticated ceramic cutting and CNC grinding fabrication solutions have served a diverse range of industries since 2007. From consumer products to construction, pharmaceuticals, telecommunications, machinery and equipment, we have a long list of happy clients that continue to work with us over the years.
We owe our superior quality output and customer service to a state-of-the-art facility with the latest ceramic cutting equipment and a dedicated team of manufacturing professionals.
In addition to being able to cut a variety of materials, we are often able to go beyond the standard 6" thickness for many custom orders. Our rates are competitive and based on the size and complexity of your project. Precise cuts deliver superior finish and minimize waste, thereby reducing your project costs. Our staff will be happy to discuss your unique requirements and create a custom plan for you.Our clients enjoy prompt, professional and personalized service. Whether you give us a call or request a quote online, we respond promptly to your needs. We provide flexibility and are able to work from dimensional drawings or CAD file (DXF/DWG), a PCT file, a pattern, or an actual part that we can scan or digitize. Should you need assistance with material selection, we are happy to provide advice based on your requirements and budget. No matter the complexity or size of your order, on-time delivery is always guaranteed.
CNC Grinding Industrial Ceramic Material
---
Pintejin uses computer numerically controlled grinding machines, better known as CNC grinding machines, for high-volume precision ceramic grinding. Conventional ID, OD, and surface precision grinding techniques are typically used for precision grinding on lower-quantity ceramic machining jobs with multiple features. CNC precision grinding is typically used for recurring precision grinding ceramic jobs requiring extreme, repeatable accuracy. CNC grinding services are also used for accuracy on difficult ceramic parts such as those requiring contour grinding, angles, tapers, spheres, radii, and shutoffs. The exacting digital nature of a CNC grinding machine ensures efficient processing that is consistent, repeatable, and identical every time.
Pintejin uses CNC grinding machines by companies like Okamoto and Kellenberger. The Okamoto cylindrical grinder can handle items up to 60″ long and up to 12″ in diameter. The Kellenberger CNC grinding machine is more universal, able to handle parts up to 14″ by 60″, and perform cylindrical grinding, OD grinding, grinding, and rotary surface grinding.
Laser Cutting Industrial Ceramic Material
---
At Pintejin, we provide laser cutting capabilities for all types of industy ceramic substrates, in working ranges up to 10 inches x 10 inches x 9.5 inches. Our laser cutting equipment offers tolerances of ±0.002 inches for precise metal designs.
Depending on difference industy ceramic types, we can handle different thicknesses and apply different laser cutting methods, including flame cutting, fusion cutting, sublimation cutting, and laser drilling, to create a durable and consistent finish along the cut edge.
Fabricators employ different laser cutting processes depending on the industrial ceramic and thickness of their workpiece. While the basic principles of the process remain relatively the same—i.e., using a focused beam to melt the substrate and an assist gas to facilitate the cutting process—there are distinct differences between the variants. Some of the most types we employ are:
Flame cutting:This process uses oxygen to remove molten material from the kerf. The oxygen reacts to the substrate material, creating an exothermic reaction that adds energy (in the form of heat) and accelerates the cutting process.
Fusion cutting:In contrast to the flame cutting method, fusion cutting uses assist gases chosen specifically for their lack of reactivity to the substrate.
Sublimation: In sublimation laser cutting, the laser heats the substrate material to the point of vaporization (i.e., sublimation) and the inert assist gas blows away excess material.
Laser drilling: Laser drilling is a process that employs laser beam pulses to produce holes through a workpiece.
Custom Ceramic Cutting Parts And Case Studies
---
Work with us on your next project so that we can put our capabilities into action for your advantage. We look forward to making you a lifelong customer. From custom cnc cutting to precision grinding, laser cut or micro milling and more, our exceptional craftsmanship, pricing and customer service is hard to beat.