Founded in June 2007, Pintejin Ceramic Industrial Technology Co., Ltd. is a professional enterprise engaged in R&D, manufacturing and sales of non-standard industrial ceramics, hard alloys (tungsten steel) and various metal and non-metal precision machinery parts.
The company adheres to the business philosophy of "being honest, doing things with care." Adhere to the market-oriented, technology-centric, people-oriented, customer satisfaction as the business pur- pose, The company has strong technical level in the field of industrial ceramics (zirconia, alumina, silicon ni- tride, silicon carbide, aluminum nitride, microporous ceramics, etc.) and hard alloy (tungsten steel) non-standard precision parts and components. A number of process technologies are leading the indus- try.
The Pintejin ceramic machining shop has a group of professional technicians who have been engaged in the industry for more than ten years and has strong technical research ability. It has a complete production process and quality management system, as well as a complete set of precision processing equipment and inspec- tion equipment.The company strictly implements ISO9001 international quality system certification and ISO14001 environmental certification system, and can customize products of various specifications according to customer requirements, drawings and samples, welcome guests and friends to visit our company, communicate and cooperate, we will cooperate with new and old customers Common development and create a bright future.If you are willing to work with us or want to know more details, welcome to contact us via email.
HOW WE WORK
---
The company's main products are: zirconia ceramic precision parts, alumina ceramic precision parts, silicon nitride ceramic precision parts, silicon carbide ceramic precision parts, hard alloy (tungsten steel) precision parts. Products are widely used in: precision machinery manufacturing, microelectronics, semiconductor, aerospace, aviation, bio- medical, fiber optic communications, optoelectronics, testing, inspection, photovoltaic solar energy and other professional fields.
---
Industrial ceramic shaft parts have high melting point and high melting point, high strength, conductors and insulators at room temperature, and ceramic shafts produced at high temperatures with excellent properties such as electrical conductivity. The manufacturing standard of industrial ceramic shaft core depends on the situation, and it must be carefully planned in advance, and a variety of manufacturing plans should be prepared in advance to compare, so as to choose the best plan. As a professional ceramic company, Pintejin can meet the following
shaft parts
standards:
Radial size can reach 0.0015mm, roundness
0.001mm, concentricity 0.0025mm,
roughness 0.02;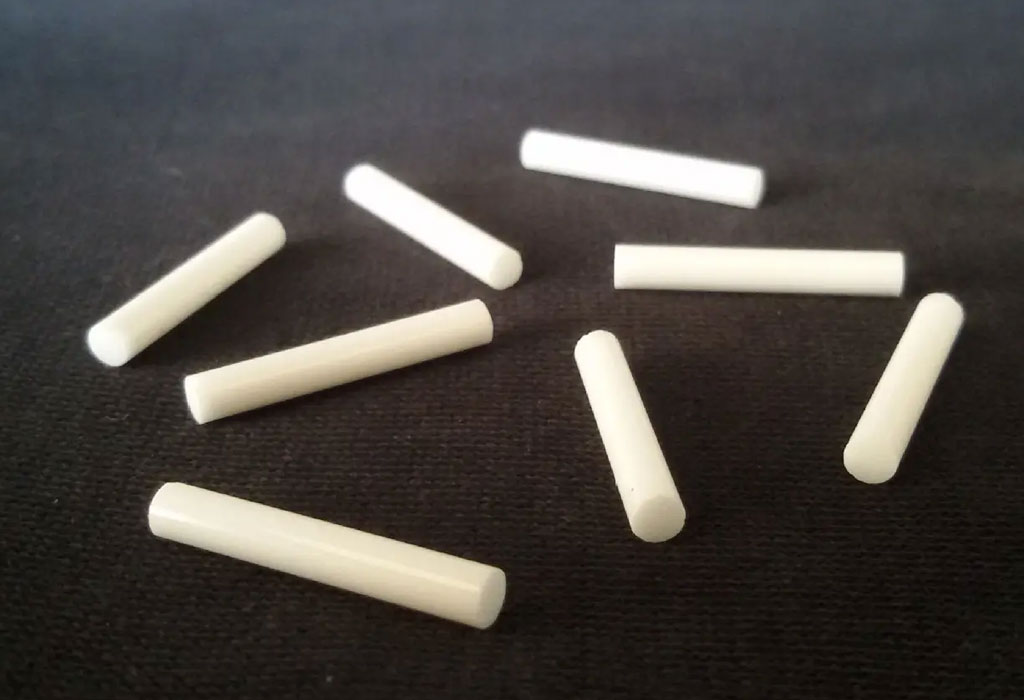 ---
In recent years, ceramic manufacturers and diamond machining units have jointly designed and manufactured a new type of diamond drilling tool (electroplated diamond drill bit). All very good. It can completely simplify the machining of holes, as long as the electroplated diamond drill bit is installed on the drilling machine, the machining can be carried out by selecting the appropriate speed, and the quality of the
ceramic machining holes
is high.
Hole Parts:
Machined minimum hole diameter of 0.2mm,
depth can be 3mm, hole above 1mm, radial dimen-
sion tolerance 0.002mm, roughness 0.02-0.04;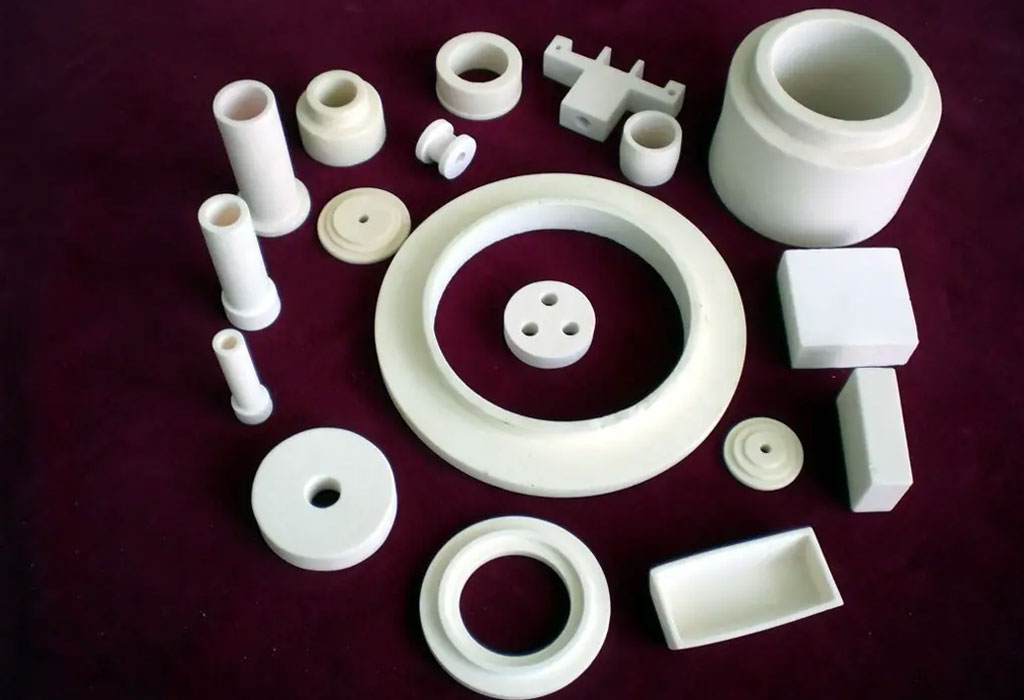 ---
The higher the surface quality requirements, the higher the processing cost. In the case of meeting the requirements of use, the larger Ra value should be selected as much as possible to reduce the cost. Basically all machining methods can machine flat surfaces, turning, milling, planing, grinding, drawing and wire cutting. Among them, surface grinders are widely used. Grinding is usually used for finishing. When batches are small, planers and wire cutting are usually used.
As a professional ceramic company, Pintejin can meet the following ceramic plane machining standards:
Tolerance can be achieved 0.002mm, flatness
0.0015mm;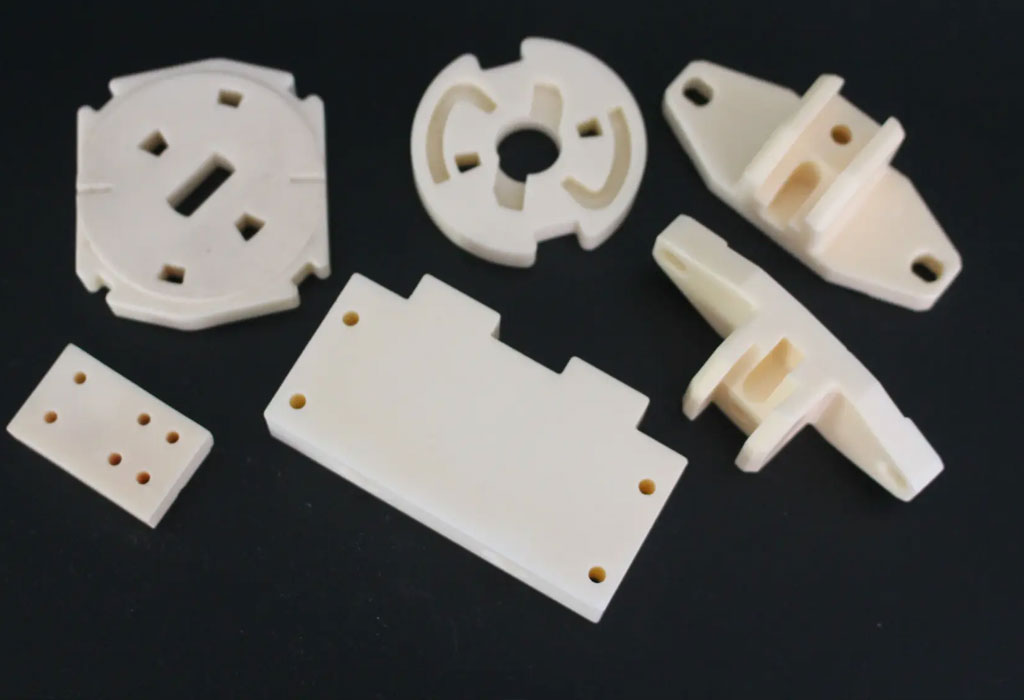 ---
When the grinding area of the workpiece is relatively large, the heat generation during step machining is large, and it is easy to deform, so you need to pay attention to the roughness, you need to choose the direction of cutting the steps, and it is better not to grind the side and bottom at the same time when finishing, and use a coarse grinding wheel to lie down. Grind one side, then stand up and grind the other side, try to avoid grinding with the side of the grinding wheel, and finally change the fine grinding wheel to clear the corner. As a professional ceramic company, Pintejin can meet the following
ceramic step machining
standards:
The stage difference accuracy can reach 0.002mm,
and the R angle clear root can achieve R0.02mm;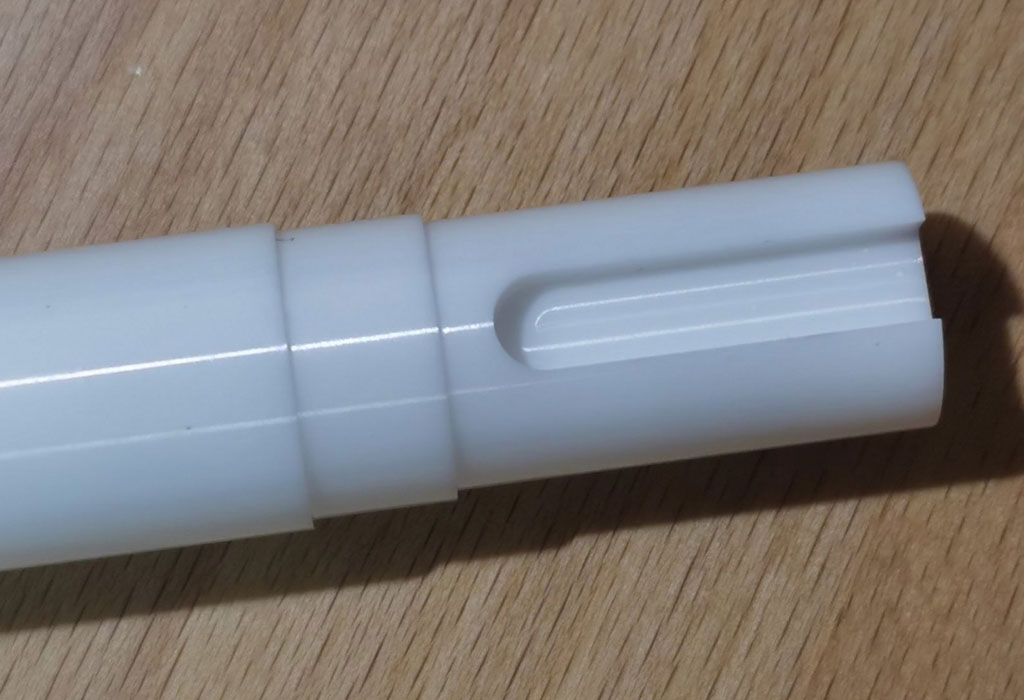 ---
The ceramic thread machining methods are grinding machining and EDM conjugate rotary machining. Grinding has low cost, high speed and high efficiency, but it will cause damage to individual thread surfaces during the machining process, thus affecting the quality and accuracy of the thread. Therefore, EDM conjugate rotary machining is the best method for machining ultra-high temperature ceramic threads.As a professional ceramic company, Pintejin can meet the following
ceramic thread machining
standards:
It can process internal thread of M2 or above,
thread precision GB- 7H; external thread size is not
limited, thread precision GB-6g;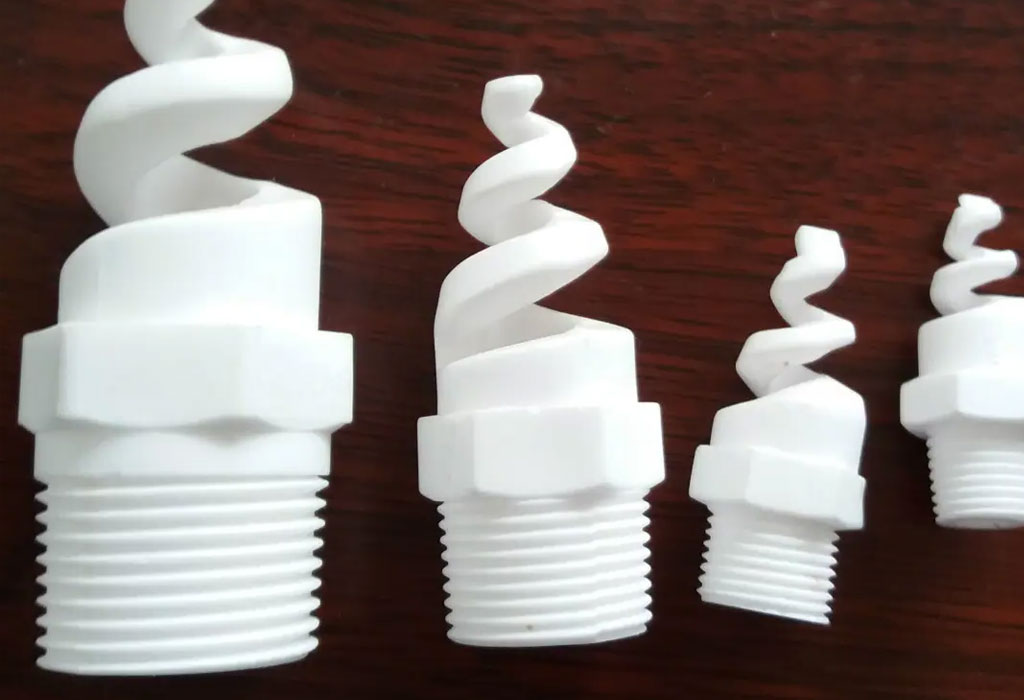 ---
KEEP IMPROVING CRAFTSMANSHIP AND APPLICATION SCOPE
We are a group of technical practitioners who. share common ideals, like-minded, and determined to specialize in precision manufacturing. Our goal is: Strive to be a first-class precision machinery manufactur- ing enterprise!
CNC Parts|3C Parts, CNC Turning and Milling Parts, Optical Fiber Connectors, Double-sided Grinding of Washers
Powder metallurgy|Automobile parts, sewing parts, pump parts and valve plate grinding
Precision Stamping | Disk drive parts, gaskets, washers, spacers, spacer plane grinding
Aerospace Parts | Qualified Precision Grinding and Processing Cooperative Manufacturers of Domestic Aerospace Companies
Tungsten steel products | Turning tools, scrapers, shim grinding and disposable blade plane grinding heavy industry
Ceramic parts | Precision ceramics, ceramic suction cups, zirconia parts grinding, mirror polishing
Optical Industry | Optical Glass, Optical Filter and Quartz Precision Cutting
Electronics Industry | IC parts, Chip, packaging grinding and thinning, PCB substrate cutting
PROVIDE MATURE CERAMIC MACHINING SOLUTIONS
---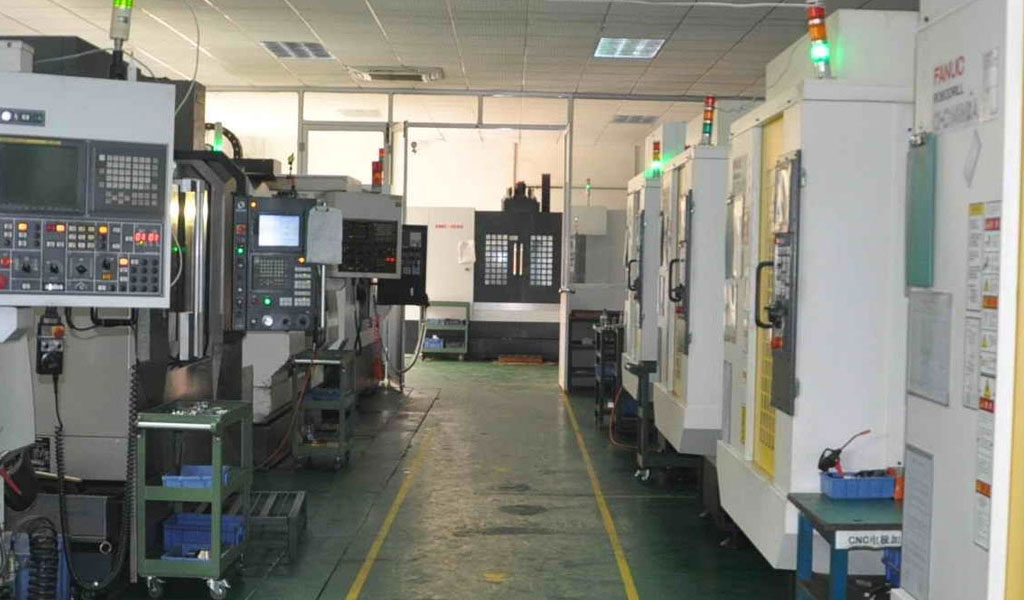 High Precision CNC Machine
The Number Of Machining Center: 70 Ceramic CNC Machines;
Machining Accuracy: ±0.01mm;
Cnc Machining Objects: silicon nitride ceramics, aluminum nitride ceramics, zirconia ceramics, machinable ceramics, bioceramics, silicon carbide ceramics, etc. ;
Machining Form: contract labor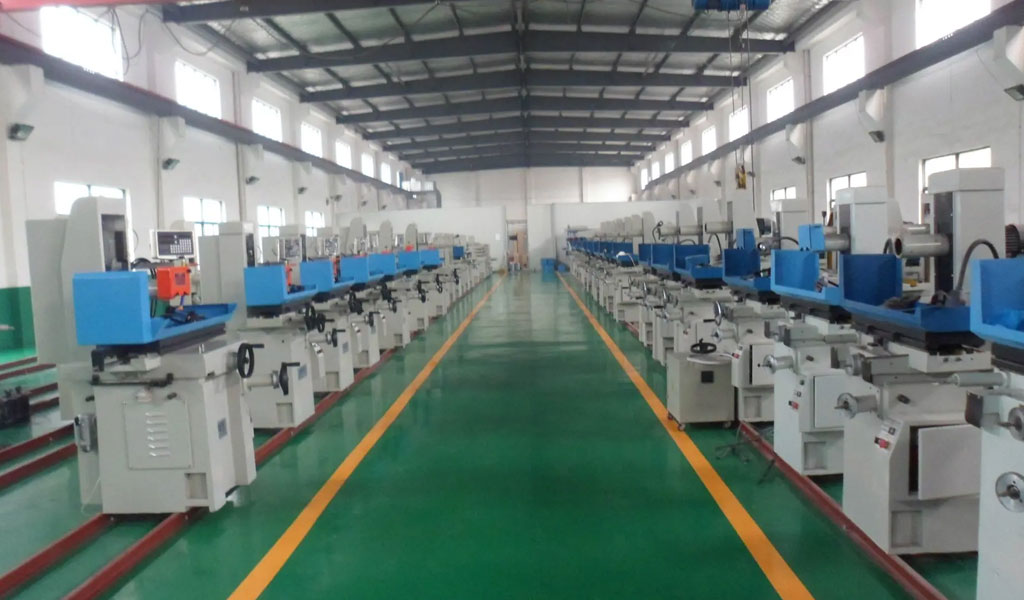 Precision Grinder Workshop
Equipment Name: High Precision Surface Grinder
The Number Of Devices: 16
Grinder Brand: China DALIAN
Machinable Materials: zirconia ceramics, alumina ceramics, silicon carbide ceramics, silicon nitride ceramics, aluminum nitride ceramics, etc.
Grinder Machining Accuracy: ±0.001mm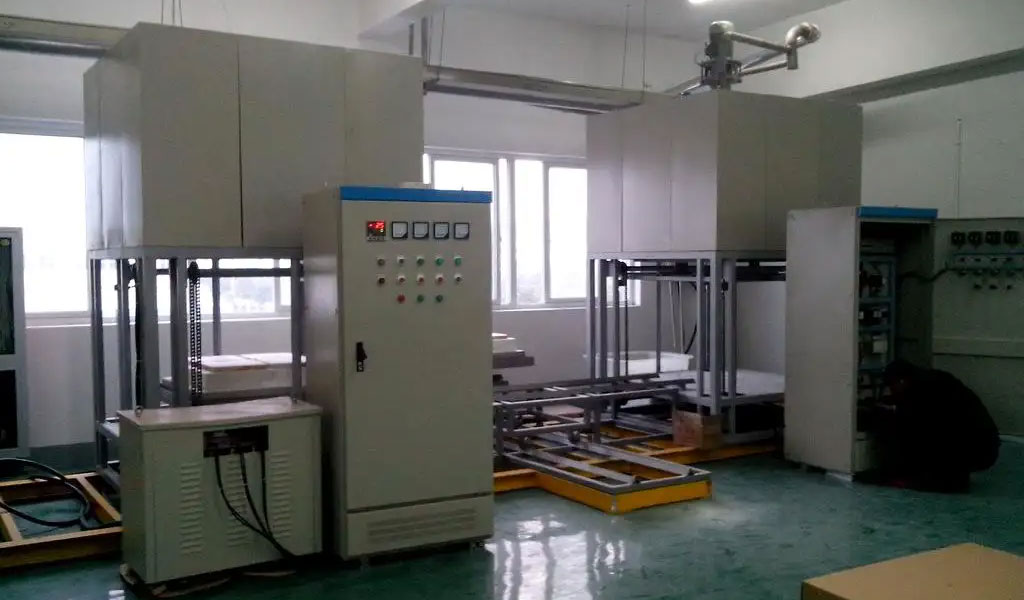 Ceramic Sintering Furnace
Our company is equipped with sintering furnaces of well-known brands, which can sinter shaped ceramic bodies such as zirconia and alumina, and can provide more complete full-process ceramic cnc machining services.
Number of Machine Tools: 3
Production capacity: silicon nitride ceramics, aluminum nitride ceramics, oxide
INDUSTRIAL EQUIPMENT TESTING AND CERTIFICATION
---
Industrial equipment and machinery are subject to some of the world's most extensive conformity requirements, with added complexity as automation and robotics become integral to operations. You need timely and efficient solutions to help you stay compliant and competitive within the industrial equipment industry, as well as a partner for testing, inspection, certification, and quality assurance that has your goals in mind. We help you overcome challenges and reach global markets.
Comprehensive written procedures and policies
Extensive electronic records of orders, customer communications and inspection results
Detailed records of incoming raw materials
Analysis of root cause of non-conformances
Corrective actions to prevent recurrence of non-conformances
Multi-level incoming order review
Comprehensive software expert system advising customers of manufacturability issues
Periodic calibration and labeling of inspection tools
Designated areas for non-conforming parts
Daily backup of electronic records stored in multiple locations
As a full-service ceramic machining company, we support you from the pattern design to finished ceramic product and parts through cnc machining, mold making, punching, engineering design and ceramic sintering as well as surface treatment for the Zirconia Ceramics,Silicon Nitride Ceramic, Alumina Ceramic , Silicon Nitride, Machinable Ceramics, Bioceramics, Aluminum Based Silicon Carbide,Silicon Carbide Ceramics,Boron Carbide Ceramics
and More Ceramics.
Contact us or Email [email protected] to see how our people, equipment and tooling can bring the best quality for the best price for your ceramic machining project.