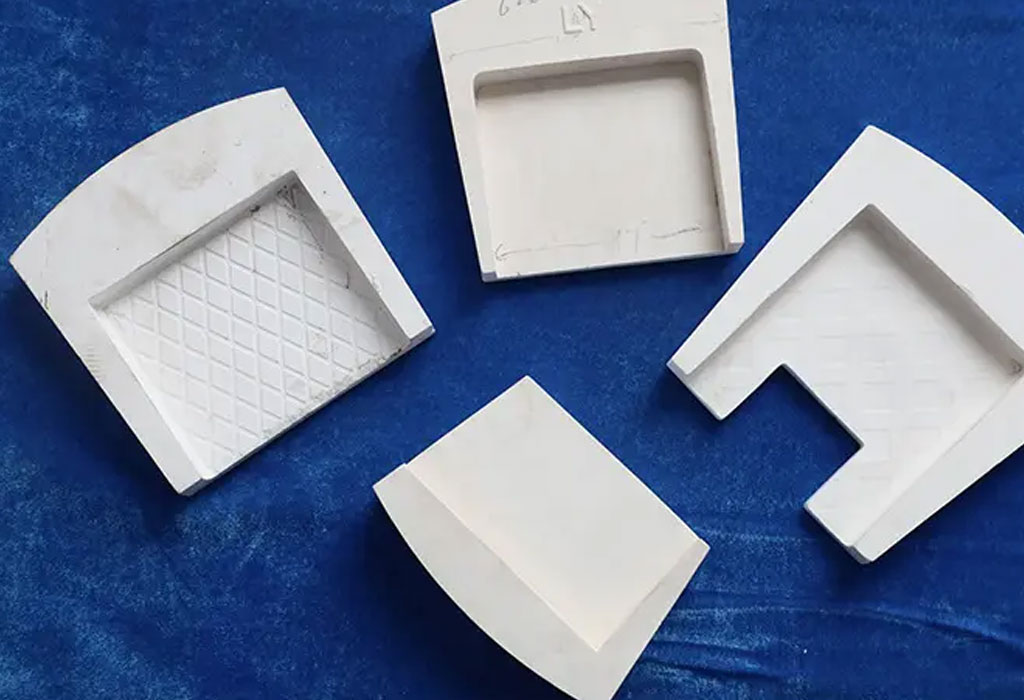 What Is Alumina Material
---
Alumina is a stable oxide of aluminum with the chemical formula Al2O3. Also known as bauxite in mining, ceramics and materials science.
Industrial alumina is prepared from bauxite (Al2O3·3H2O) and diaspore. For Al2O3 with high purity requirements, it is generally prepared by chemical methods. There are many isomorphous crystals of Al2O3, more than 10 kinds are known, and there are mainly 3 crystal forms, namely α-Al2O3, β-Al2O3, γ-Al2O3. Among them, the structure is different and the properties are also different, and it is almost completely converted into α-Al2O3 at high temperatures above 1300 °C.
Alumina ceramics are currently divided into two types: high-purity type and ordinary type. Ordinary alumina ceramics generally have an AL2O3 purity of 75% or less, while the Al2O3 content of high-purity alumina ceramics is above 95%. The alumina ceramics mainly produced by Kezhong Ceramics include 95 porcelain, 99 porcelain, 995 porcelain, 998 porcelain. 4 kinds of porcelain. 95 porcelain, 995 porcelain, and 998 porcelain are all white ceramics, while 99 porcelain is ivory-colored ceramics. They are all ceramic materials with A12O3 as the main crystal. Alumina ceramics have good thermal conductivity, insulation, mechanical strength and high temperature resistance. It still has excellent insulating properties at a high temperature of 1000 ° C, so it is widely used in electronic appliances, military scientific research and other industries. With the development of high-tech, because alumina ceramics can ensure its excellent insulation properties, it can also have wear resistance, high temperature resistance and other properties, so more and more industries begin to choose alumina ceramic materials to replace traditional Plastic material parts. That prolongs the service life of machine parts and improves the use efficiency of parts. In the electronics industry, it can be used as an integrated circuit substrate and a high-frequency insulating material.
In addition, an alumina ceramic with a purity of 99.99% AL2O3 is introduced, and its color is transparent. Because the sintering temperature is as high as 1650℃-1900℃ and the transmission wavelength is 1-6μm, it is generally made into molten glass to replace platinum crucible, and it is used as a sodium lamp tube by its light transmittance and alkali metal corrosion resistance.
Data shows that China is the world's largest alumina producer. In 2010, the global alumina output was 56.355 million tons, and China's alumina output reached 28.955 million tons, a year-on-year increase of 20.14%, accounting for 51.38% of the world's total. In 2010, the apparent consumption of alumina in China reached 33.21 million tons, with an annual growth rate of 14.05%. The net import volume was 4.26 million tons, and the import volume of bauxite reached 30.19 million tons. The external dependence was 39.71%. up to 47.26%.
The List Of Alumina Material
---

99.5% alumina powder is white powder or fine sand, with good fluidity and stable performance.
Read more
---

99% alumina ceramics and 95% alumina material are the two most commonly used aluminum ceramics.
Read more
---

The 99.8% alumina ceramic is made of white alumina powder with a purity of 99.8%.
Read more
---

95% alumina ceramics is the most widely used type of structural ceramics. Because it has
Read more
The Performance Parameter Table Of
Alumina Ceramic 
---
| | | |
| --- | --- | --- |
| Performance | Unit | Alumina AL2O3 |
| Bulk density | g / cm3 | 3.7 |
| hardness | HRA≥ | 86 |
| Flexural strength | Mpa≥ | 300 |
| Operating temperature | ℃ | ≤1500 |
| Linear expansion coefficient | ×10-6/℃ | 7.15-7.67 |
| Dielectric constant | εr(20℃,1MHz) | 9.21 |
| Dielectric loss | tanδ×10-4,1MHz | 2.5 |
| Volume resistivity | Ω · cm (100 ℃) | 9.2*1016 |
| Compressive strength | Mpa≥ | 2500 |
| Flexural strength | Mpa≥ | 200 |
| Elastic Modulus | Gpa | 300 |
| Poisson's ratio | | 0.2 |
| Thermal Conductivity | W/m·K(20℃) | 20 |
| DC breakdown strength | KV/mm | 43.7 |
| Tensile seal strength | Mpa | 104.4 |